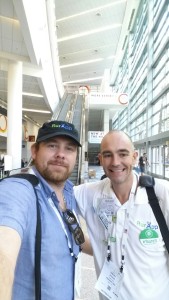 Co-Founders and Directors of RurApp Inc, Jay Byford and Simon Agius, joined over 77,000 other industry members at Natural Products Expo West where they talked #traceability #organicfarming and #authenticity with over 300 companies.
Natural Products Expo West is the preeminent show for spotting trends in the food and CPG industry. According to an article published by the content and research team from the Conference Organizers, New Hope, tracked the following macro forces and consumer trends this year: Ancient Wisdom, Transcendent Transparency, Snackification, Feed Me!,
With such strong growth ongoing in the industry, many brands expressed great excitement about the three key programs released by RurApp:
The NEXT Forecast 2016 projects strong growth for the natural products industry. U.S. consumer sales of natural, organic and healthy products are forecasted to expand 64 percent from $153B in 2013 to $252B by 2019, including growth of 9 percent per year driven in part by new and emerging brands.  
The team at RurApp Inc saw huge demand for products well known to farmers in the South Pacific & African Farm to Market Networks including; Ginger, Moringa, Tumeric, Coconut, Vanilla, Cocoa, Root crops, Corn and many other clean foods.  A Farm to Market Demand report is being prepared for all RurApp Farm & Brand members to be released on 1st April 2016.
Natural Products Expo West Broke all Past Records with attendance growing by 6.9% to More Than 77,000 Attendees.
More photos and videos coming soon, Read more here;
http://www.expowest.com/ew16/CUSTOM/uploads/NPEW16-MacroForcesTrends.pdf
http://www.wowktv.com/story/31465891/natural-products-expo-west-grows-by-69-to-more-than-77000-attendees-as-the-worlds-largest-natural-products-event-experiences-another-record-setting